Bill Beierwaltes – CEO, Colorado vNet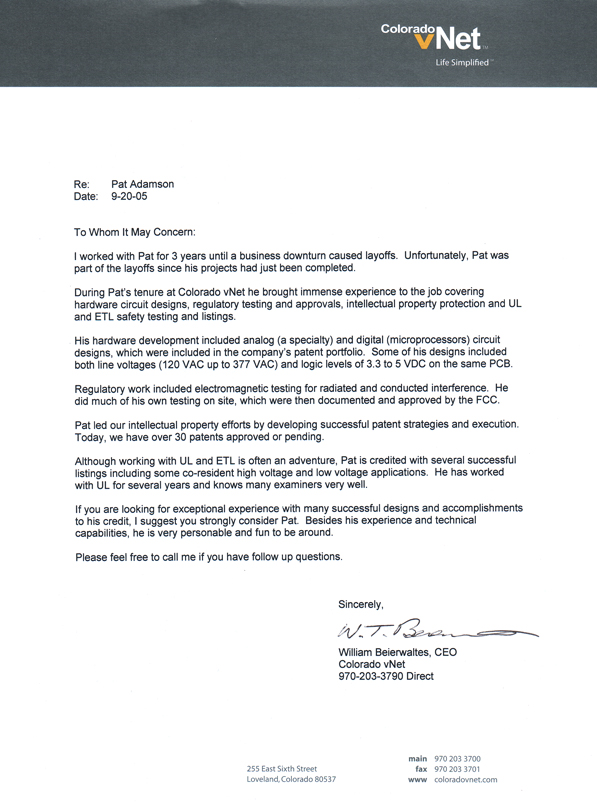 Mark Trenner – Intellectual Property Attorney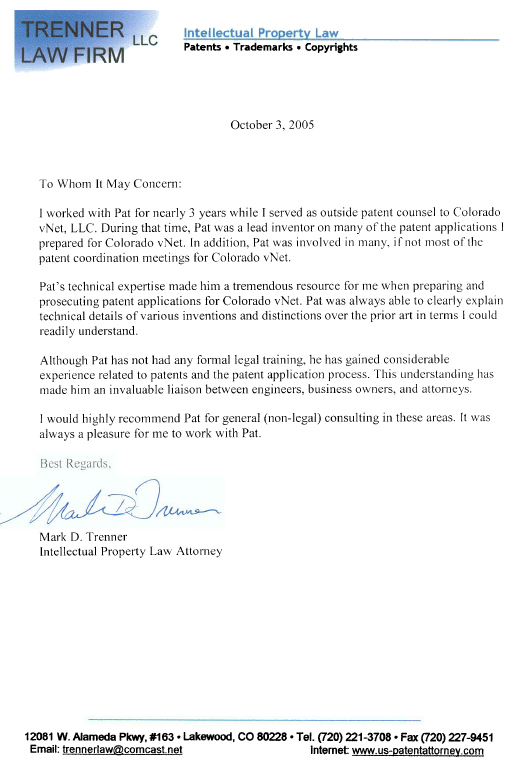 Vincent W. Greb – EMC Integrity, Inc.
I have known Pat for four years and have worked with him when he was at both Easylite and Colorado vNet. The original Easylite Ballast was too noisy to pass FCC Part 15 Class A and we worked together to bring the design into compliance. When he was at Colorado vNet, he pre-screened their products for FCC Part 15 Class B with a combination HP Spectrum Analyzer, biconical antenna and coil co-calibrated in my facility. The combination was adequate for the Prescan effort.

Pat has a good understanding of EMI problems. He is a good resource for on-site measurements to determine that a design has been adequately thought out. He is reasonable to work with and can be valuable to those who need assistance with EMI problems.
Vincent W. Greb, EMC Integrity, Inc.  
Phone: 303 776 7249  / Fax: 303 776 7314  / Email: vinceg@emcintegrity.com


---
Ryan Pring – Colorado vNet
I have worked with Pat on a multitude of different projects through different phases. Being involved with his work and seeing what he has accomplished over the last three years, Pat has consistently proven that he can take any size problem and produce an excellent solution that can be taken to market. He has the ability to break large problems into simple projects, design elegant solutions, verify and test these solutions all while turning them into real products. At each stage, Pat's down-to-earth approach to engineering has turned 
difficult problems into realizable solutions.

Engineers with the ability to effectively solve large and small problems alike are rare. Even in projects where Pat hasn't had any prior background experience, his internal motivation and seemingly never-ending desire to excel has proven that there isn't an area where he can't contribute. His drive towards excellence coupled with his gentle manner has successfully motivated the most difficult of teams to produce excellent results. 

I highly recommend Pat in any area of electronic engineering. Not just the areas I have seen him perform. If your engineering team needs help solving or avoiding a problem, I am confident that Pat can help your team reach its goal. And it is not just his contagious enthusiasm and broad background. There aren't a lot of engineers at Pat's caliber. Talk to him for just a short while about your problem and you'll see what I mean. He delivers what he sets out to do. Please contact me to discuss this or the projects more in depth. Pat can give you my contact information.



---
Billy Woods – Lab Coordinator, CU dept. of Electrical Eng. Retir
Pat Adamson and I have been friends for 57 years, in all that time he has never done anything that put even a small dent in our trust bond. Several times in our history there are periods of time, 3 to 5 years, that I was not in contact with him and his family, but I have always been welcomed back into his life as if it was only yesterday when we last spoke. 

Pat has a depth of understanding and a unique ability to listen to others that are an important asset in his style of dealing with others. I know him to be loyal and faithful to his friends, and his business associates. I also know him to someone who can be trusted because of who he is. 

Billy Woods, Lab Coordinator, CU dept. of Electrical Eng. 
Retired, www.billywoods.com

 
Alltronics Tech Mfg. Limited